Saw some crayfish in Waihi Stream.

Does anybody know if we are allowed to gather these. Any regs on these.

Anybody tried crawdad bisque or eaten these before.

Also are there tahitian freshwater prawns on oahu?
I saw these and had them in Kauai and they were ono.
big daddy boar





Posts

: 245


Join date

: 2008-09-27


Age

: 47


Location

: Honolulu, HI



Should have tahitian prawns too. I thought I heard once that their larvae (or at least some of them) go out to sea and travel up into new streams. Therefor any water connected to the sea should have. Can anybody confirm?
big daddy boar





Posts

: 210


Join date

: 2008-08-13


Age

: 33


Location

: Kilauea, Kauai



I have only eaten the prawns from Waipio Valley. The big ones with the long claws.
big daddy boar





Posts

: 355


Join date

: 2008-09-20


Age

: 53


Location

: Kapolei



According to http://www.mgf-hawaii.org/PDF/OP%20Grade%203/introducing.pdf

Tahitian prawns were brought to molokai and Oahu (manoa stream) as a food source from guam in 1956.

Now they are common on all islands.

Can grow to 7"

It competes with the native prawn for food.

Tahitian Prawns were introduced into Hawaii in 1956 from Guam with some released into a Molokai stream and later Manoa Stream on Oahu. Nine years later, an adult was caught in a Big Island stream. Reproduction is based upon release of eggs and planktonic larvae into the sea where currents distribute them widely. Tahitian Prawns have the ability to delay their metamorphosis into post larvae stages if fresh water is not present. Somehow they are able to penetrate and complete their life cycles completely within the anchialine ponds

from http://www.fukubonsai.com/M-L2b1a.html

I want to find some of these on oahu.

Editing this now. Just found this
http://www.bishopmuseum.org/research/natsci/waipiostudy/students/meet_the_critters/crustaceans/introduced/Procambarus_clarkii.htm

It says they may carry diseases.
Question answered. --- Don't eat 'em.
big daddy boar





Posts

: 245


Join date

: 2008-09-27


Age

: 47


Location

: Honolulu, HI



I was crawling up a stream on Kauai last March and was getting long clawed Polynesian prawns to eat from in the pools of water when I was really surprised to spot one several feet out of the water atop a big boulder off to the side of the stream, I started to sneak towards him but that bugger saw me coming and spooked immediately and curried from atop that big rock then across some gravel and back into the water. So I am 100% sure those things are mobile and can travel and climb, and sometimes hang out - out of the water. I grew up eating tails and claws off freshwater crayfish in the midwest of the mainland, which are a very different specie, both are Yummy.
one other observation I had:
the crayfish (crawdad) I grew up with had large wide pinchers sort of resembling a lobster and you can get meat out of the inside of them , but the polynesian prawns I caught and ate had very long thin skinny claws (not big enough for meat inside) and on the tip of their nose is a long serrated sword connected to the carapace, just like these saltwater shrimp I catch in Alaskan waters, the crawdads do not have a long pointy sword sticking off their nose like the prawns- crawdads look more like miniature lobsters.
I caught these off the coast, on the bottom in my funnel entrance traps in 500 feet of water. thought you guys might find them interesting.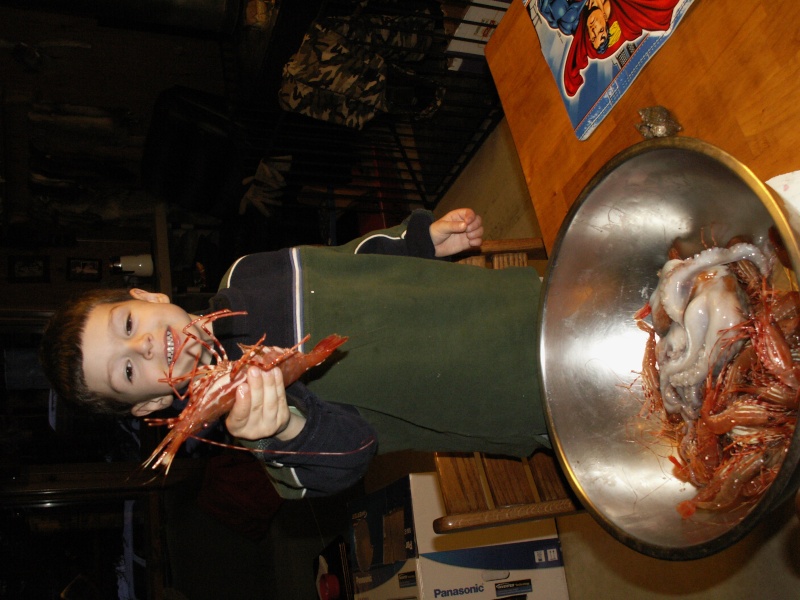 Yummy stuff from my home island waters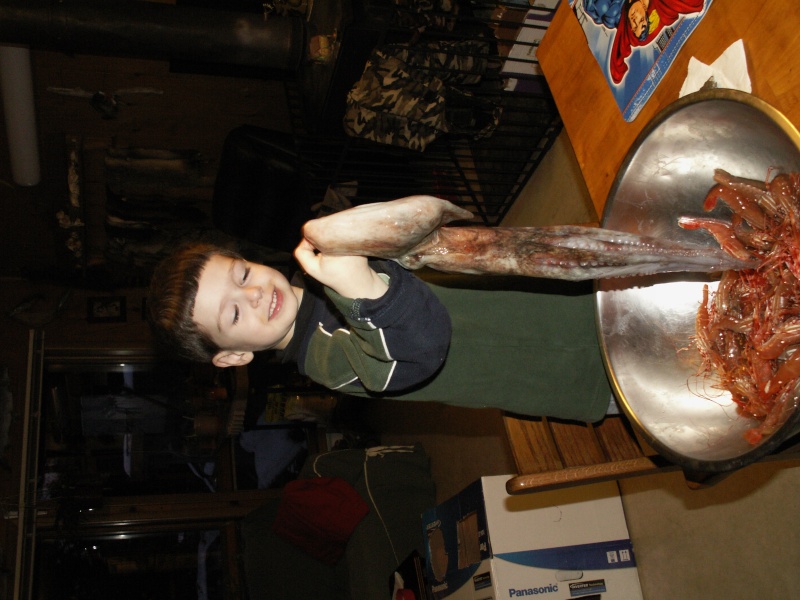 I haven't eaten any local crawfish, but I have heard that they aren't as tasty as when they're caught on the mainland. On the mainland, the crawfish develop fat reserves that help them hibernate through the winter. In the tropics and during very mild winters, they don't develop the fat.

But, if you catch 10# or more, any good seafood boil seasoning will make a nice sit down pigout, with pelnny beer of course.
big daddy boar





Posts

: 111


Join date

: 2008-01-15


Location

: Honolulu



---
Permissions in this forum:
You
cannot
reply to topics in this forum